Energy efficient high performance All the performance of a vane pump, right from the low pressure range, is enhanced even further by eliminating the external drain and optimizing the pressure balance, creating a design that generates little heat. The result is a pump that contributes to the energy efficiency of the mother machine, as well as to process precision.

Model No.
UVN-1A-0A2-1.5-4-11
Pump Capacity in3/rev
.49
Pressure Adjustment Range kgf/cm² (psi)
15.3 to 40.8 (217 to 580)
35.7 to 61.2 (507 to 870)
56.1 to 81.6 (797 to 1160)
No-load Discharge Rate gpm
50Hz
3.1
60Hz
3.8
Over the years, we have been committed to the production and research of UVN Series Variable Volume Vane Uni-Pump .We not only provide high quality machinery and accessories for sale on the market, we also care about customers' profits and the impact of machinery on the environment.If you want to know more details, please contact us immediately!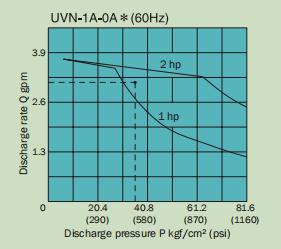 Nachi Hydraulics | Hydraulic Superstore Servicing Customers Worldwide For 25 Years. over 30 years in business. see us when you need us. 30 + years experience. Models: Hydraulic Pumps, Valves, Parts.
UVN-1A-1A3-1.5-4-11 – Nachi.Store Vane Pumps · UVN Series Variable Volume Vane Uni-pump; UVN-1A-1A3-1.5-4-11 … Estimated Delivery is 3 to 4 weeks after receipt of order.
UVN-1A-1A3-1.5-4-11 NSP uni-pump – Air & Hydraulic Description. Nachi UVN1A1A31.5411, Nachi?UVN-1A-1A3-1.5-4-11. NSP Unipump. Lightweight, compact, easy to handle.